CHALLENGE:
Decorating with Oriental Rugs


Have you ever had
to work
a room design
around a beloved oriental?
My mother started collecting oriental rugs
when I was in high school or at least that's when
Years later when I met my husband,
and early in
our marriage we
I LOVE them.


(Especially Heriz, Bokhara and Sarouk patterns)
Heriz (from the northwest region of Iran)
Bokhara (from Pakistan)
Sarouk rugs come from Persia.
One of the many reasons
I like to have oriental rugs
is because they are nearly indestructible
and rarely show
dirt or dust.
They clean easily are pretty much pet-proof.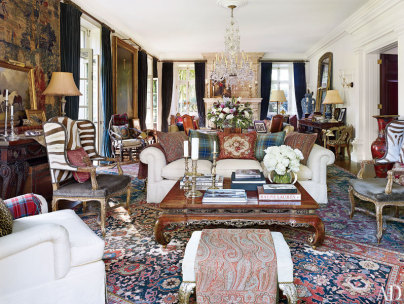 Overlapping orientals in Ralph Lauren's living room in New Bedford, NY
and their ancient history.
Oriental rugs have been around
the earth since before Jesus
walked the earth
with the earliest known example
(seen below)
dating back to 500 BC.
This wool rug,
the Pazyryk rug,
was discovered in 1949 in the town of the same name
during an archaeological excavation
of the grave of a Scythian prince.
Amazing.
However, as lovely as they are
decorating
around them
This is a home in the current issue of Traditional Home that is located not far from me! Gorgeous, right?
Have you ever faced this challenge?
How did it turn out?



Here is your challenge:
send me a picture of your room
( to my email at
thepolohouse@comcast.net )
that you have decorated
using an oriental rug
and I will add it here to the post!
Show us what you've got.
(Will post your room's photos below!)
Here is a beautiful light blue oriental in the gorgeous formal dining room of Dee at A Lapin Life
This is a lovely handmade silk Aubusson rug in the living room of Fabby @ Fabby's Living
This classic red rug takes center stage in Shirley's gorgeous home! Love all the wood!
LOVE how Karolyn at The Relished Roost created this luscious room around her oriental rug.
Check out the lacquered walls in the background --- LOVE!
What a warm, cozy room! Love the layers and detailing in Kathy's beautiful room
at All About Vignettes blog.
What a perfect spot to sit and relax on this lovely rug! This is a scene at the home of Karen
at Garden Home & Party blog. Link to visit there HERE
This is Richard's formal living room from his feature in Victorian Homes magazine in June 2012,
Isn't his home wonderful? Go visit him at MyOldHistoricHouse