Almost everyone loves
an animal print.
Whether you it have it in your closet
or have it in your living space,
most people can admit that they
have it somewhere.
This makes me dizzy....
via Veranda magazine
that I mentioned in a post here
that I found a woven leopard
velvet
our family room tufted ottoman?
(Will share pictures
soon.)
I selected Brunschwig's Velvet Leopard
I currently have two clients
that are just crazy about animal prints.


wonderful versions of animal prints
out there to choose from and they come in
every color under the rainbow
so it's been a lot of fun searching out
the perfect choices for their rooms.
One of Charles Faudree's rooms
I wondered what the difference was
between a jaguar and a leopard print
I decided to share my findings on
so we can all see how to identify
the stripes or spots
so specifically arranged by nature --
each having their own unique patterns.
The Leopard (sub-Saharan Africa, NE Africa, Central Asia, India, and China)
The leopard's spots are rounded shapes with darker tan centers and broken black circles.
The Jaguar (South and Central America)
A jaguar has spotted circles on their fur. Very different from a leopard.
The Ocelot (South America, Mexico, Trinidad and Margarita, Central America - and rare sightings in Texas and Arizona)
The spots on the ocelot's coat are more elongated and are a series of dots and lines
in an almost stretched or smeared pattern.




The Cheetah (Africa and Iran)
This fast cat's fur has a dotted pattern -- very easily identified.
striped guys to talk about...
The magnificent tiger (Asia, Turkey, Russia)
The Zebra (Africa)
The zebra skins are much more brown and white then black and white.
It's interesting to see the stripe patterns.
Here are some of my favorite
animal print fabrics
that you can use in your home decor.
Colefax and Fowler's Ocelot
Brunschwig's Velvet Leopard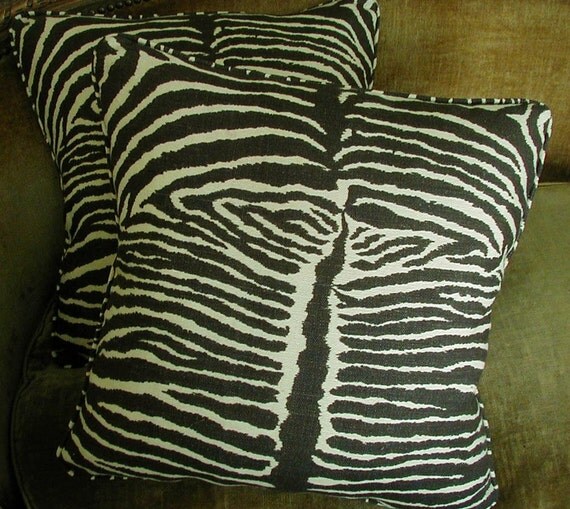 Le Zebre by Brunschwig & Fils
Clarence House's Ocelot fabric
via Barclay Butera
Colefax and Fowler's Kruger
Duralee

15382-193
We have this Brunschwig & Fils on a long bench in the living room.
Kotuko Grospoint
Cowtan and Tout's Jaguar
Do you have any
animal print in your home?
Lee Jofa's Silk Tiger
Pierre Frey's Jungle
Pierre Frey's Giraffe
ia Elle Decor magazine
Osborne and Little's Kuri Velvet
via OnPinehurstPlace blog
Scalamandre's Leopardo
via Architectural Digest
via Alessandra Branca
And if so,
do you wear them
or
decorate with them?
I really want to know!
via Ralph Lauren
Do you recognize the pattern!? Which fur is it?