Poor Tommy Turkey ....
he seems to get skipped over
in the holiday line up
of characters.
We all agree
that he is not
the most handsome feathered fellow,
but he is the main symbol
of our Thanksgiving festivities --
like it or not.
I was recently antiquing in
Oklahoma City with
my mother-in-law and two of my
sisters-in law (so much FUN!)
and ran across
the prettiest turkey plate
pattern that I really wanted to bring home.
Not a great shot.... the plates were up high and I had to snap these with my cell phone.
The artist of this vintage
transferware pattern
managed to make him
look so handsome
with his deep teal feathered coat.
Striking.
This six plate grouping was priced at $185 but they were salad plates and not
dinner size plates so I passed. I thought the price was high,
but after researching them

when I got home -- the price was not too bad.
set of ten or twelve of these
with the matching platter
to use for Thanksgiving dinners.
(Something nice to pass on to my children too.)
Aren't they pretty?
Here are some other lovely turkey patterns
to your holiday tablescape.
Be sure to check the dimensions
if you are thinking about purchasing
one of these vintage or antique platters.
Many of them are not large enough
to hold one the giant steroid gobblers
that we serve these days!
Find this platter HERE
Here is a gorgeous set that Nancy is selling --- buy it HERE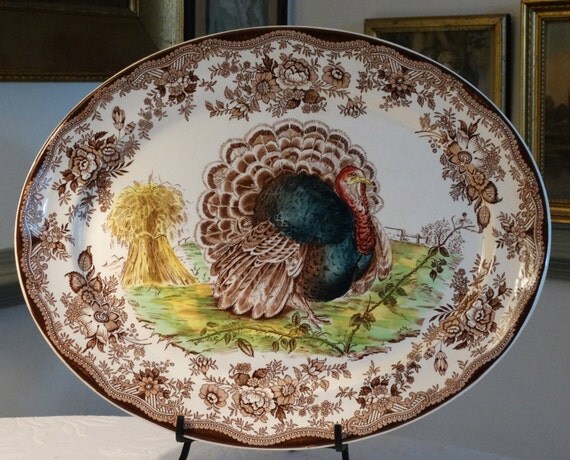 A platter from Clarice Cliff can be found HERE
This one from Spode can be found HERE
This one on Ebay -- HERE
Another gorgeous one at Nancy's shop -- find it HERE
To find out more about the history
of these turkey plates and platters,
from her seemingly limitless collection!
Thanks for stopping by.
Enjoy your weekend.
Alison